Floor Stripping and Waxing To Properly Care For Your Chandler Floors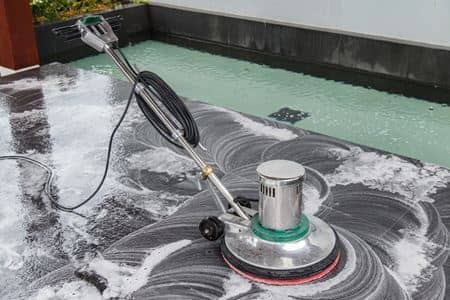 When it comes to maintaining your floors, floor stripping and waxing in Chandler is an essential service for homeowners and businesses. By opting for our cleaning service for Chandler, you're investing in the preservation of your floors, ensuring they remain in pristine condition for years.
Our Professional Services
Over time, floors accumulate dirt, grime, and old wax, which can dull their appearance and lead to unsightly marks. This not only affects the aesthetic of the space but can also lead to potential hazards like slips and falls. For the most thorough floor stripping and waxing in Chandler, we pride ourselves on using state-of-the-art equipment and industry-leading techniques. No task is too big or small for our trained technicians, and we ensure that every inch of your floor shines brighter than ever.
Floor Waxing
Floor stripping and waxing is more than just about aesthetics; it's about protecting your investment. A properly waxed floor is resistant to stains, scuffs, and scratches, ensuring longevity. Over time, due to foot traffic, spillages, and general wear and tear, the wax layer deteriorates, losing its sheen.
Regular floor stripping and waxing not only rejuvenates the appearance but also acts as a shield against potential damage. With our team's expertise, we guarantee a mirror-like finish that not only reflects the quality of our work but also the pride you take in your premises.
The Floor Stripping Process
Floor stripping and waxing involves removing the old wax, dirt, and residues that accumulate over time. It's a detailed process that requires precision, ensuring the floor isn't damaged. Additionally, floor waxing can save you money in the long run, preventing the need for expensive repairs or replacements.
Why Regular Maintenance is Essential
Consistent maintenance of your floors extends their lifespan and keeps them looking new. Regular stripping and waxing prevent discoloration, grooves, and other types of damage that can occur due to neglect.
Book A Service
Whether it's janitorial cleaning or specialized floor care, we've got you covered. Taking the first step towards a cleaner space has never been easier when you choose to book a service with us. You're not just getting a cleaning crew, you're securing peace of mind, expertise, and dedication. Your satisfaction is our priority, and we're here to make it as easy as possible.
Frequently Asked Floor Stripping and Waxing Questions
We've compiled a list of the most commonly asked questions about our floor stripping and waxing. Whether you're curious about specifics, processes, or general inquiries, our floor stripping and waxing FAQ section aims to provide clarity. If there's something we haven't addressed, please don't hesitate to reach out. We're here to help!
The frequency depends on the traffic your floors receive. For high-traffic areas, we recommend every three to six months, while less frequented spaces might require service annually. Our team is trained to handle various materials, including vinyl, linoleum, tile, and more.
Applying new wax over old layers can result in uneven finishes and trapping of dirt. Stripping ensures a clean slate for a flawless wax application. Typically, it's best to wait at least one to two hours for the wax to dry properly. However, waiting a bit longer ensures the best results.
If Your Looking for Cleaning Services
Contact Our Cleaning Company in Chandler!