Window Cleaning: Clear, Bright Exterior Glass Surfaces In Chandler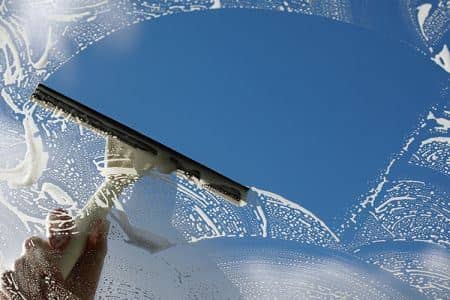 Residents and businesses in Chandler require window cleaning services that bring out the best in their properties. From dust, smudges to hard water spots, window cleaning in, our cleaning service for Chandler addresses various issues that can cloud your view.
Exterior Glass Washing
Pristine windows don't just elevate the aesthetic appeal of a structure but also allow maximum natural light, creating bright and energizing spaces. Exterior glass surfaces are continually exposed to the elements, which means they're more susceptible to dirt, grime, and pollutants. Regular exterior window cleaning not only ensures visual clarity but also extends the life of your windows by preventing corrosion and other damages.
Importance of Professional Window Cleaning
While some property owners might opt for DIY methods, professional window cleaning offers numerous advantages. Our trained professionals understand the intricacies of different glass types and can tailor their approach accordingly. Furthermore, with professional-grade equipment, they can handle windows in hard-to-reach areas, ensuring comprehensive cleaning without compromising on safety.
Window Cleaning for Commercial Spaces
Commercial properties, be it storefronts or office buildings, have unique window cleaning needs. A clean exterior creates a positive impression on clients, employees, and visitors. Our Chandler-based team is equipped to handle large-scale projects, ensuring minimal disruption to your business operations while delivering impeccable results.
Seasonal Window Maintenance
Chandler sees varied weather patterns, each bringing its own set of challenges for windows. Regular window cleaning prepares your property for each season, from removing pollen in the spring to addressing water spots from monsoon rains.
Book A Service
Alongside window services, our janitorial cleaning ensures your property shines inside out. Your windows are the eyes to your property; let us ensure they're clear and beautiful. You'll receive a free estimate for whichever service you need, whether it be pressure washing, cleaning contractor, or post-janitorial cleaning. Your satisfaction is our priority, and we're here to make it as easy as possible.
Frequently Asked Window Cleaning Questions
We've compiled a list of the most commonly asked questions about our window cleaning. Whether you're curious about specifics, processes, or general inquiries, our window cleaning FAQ section aims to provide clarity.
In Chandler, given the dust and frequent sunny days, we recommend window cleaning twice a year for residential properties. Commercial properties might require more frequent cleaning due to higher footfall and exposure.
Our professionals are trained to handle windows with utmost care. We use soft brushes and gentle cleaning solutions, minimizing the risk of any potential damage.
Our team is skilled in treating a range of window issues, including stains and etches. However, the success of treatment can vary depending on the severity and nature of the stain. For Chandler residents seeking a comprehensive cleaning solution, our cleaning service for Chandler is second to none.
If Your Looking for Cleaning Services
Contact Our Cleaning Company in Chandler!