Office Cleaning To Keep Your Chandler Workspaces Tidy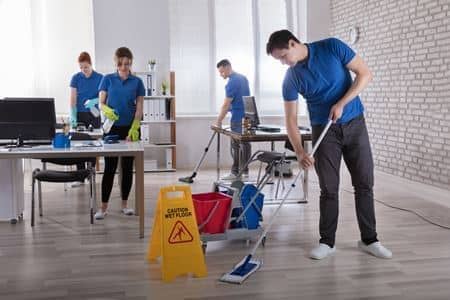 Office cleaning not only reflects a Chandler company's professionalism but also boosts employee morale and productivity. With our cleaning service for Chandler ensuring a spotless workspace is becoming a top priority for many companies.
One-Time Or Recurring Small Business Cleaning
In a fast-paced business environment, the importance of maintaining a clean and hygienic office cannot be overstated. As the first impression to clients and a daily environment for employees, a clean office space speaks volumes about a company's values and dedication to excellence. By opting for expert office cleaning in Chandler, businesses can ensure that their spaces are free from dust, germs, and clutter.
Office Cleaning For Events
Sometimes, an occasional cleanup post an event or before an important client meeting may be all that's needed. At other times, especially in high-traffic areas, regular maintenance becomes crucial. Our one-time cleaning services cater to those special occasions or events.
However, our recurring cleaning plans are designed for businesses that need consistent upkeep. These plans can be customized to suit the frequency a company requires, be it daily, weekly, or monthly. Coupled with specialized services like carpet cleaning, we ensure that businesses always present their best foot forward.
The Importance Of A Clean Office Environment
A tidy office isn't just about aesthetics; it has a direct impact on a company's bottom line. Clean environments reduce the spread of illnesses, leading to fewer sick days. Employees in clean workspaces are more motivated, less stressed, and show increased productivity. Moreover, a pristine office environment can bolster a company's reputation among clients and competitors alike.
Book A Service
Browse through our comprehensive list of services and select the one that best fits your needs. You'll receive a free estimate for whichever service you need, whether it be pressure washing, cleaning contractor, or carpet cleaning. Your satisfaction is our priority, and we're here to make it as easy as possible.
Frequently Asked Office Cleaning Questions
We've compiled a list of the most commonly asked questions about our office cleaning. Whether you're curious about specifics, processes, or general inquiries, our office cleaning FAQ section aims to provide clarity. If there's something we haven't addressed, please don't hesitate to reach out.
The frequency of cleaning depends on the size of your office, the number of employees, and the nature of your business. High-traffic areas might require daily cleaning, while others might benefit from weekly or bi-weekly services.
We understand the need for minimal disruption during working hours. We can schedule office cleaning during evenings or weekends to suit your business operations.
We offer a range of additional services, including carpet cleaning, window washing, and deep cleaning services. You can customize these based on your office's requirements.
If Your Looking for Cleaning Services
Contact Our Cleaning Company in Chandler!