Janitorial Cleaning For Ongoing Chandler Property Cleanliness And Upkeep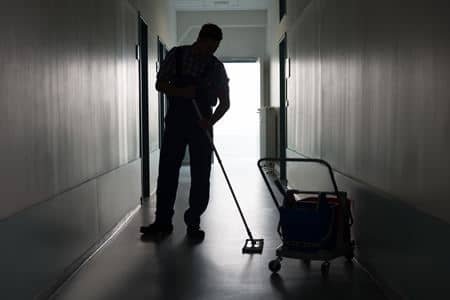 Maintaining a clean, hygienic, and presentable environment for Chandler businesses with janitorial cleaning services is paramount. Our cleaning service for Chandler services offer the perfect solution, ensuring spaces are consistently well-maintained and ready to make the right impression.
Day Porter Maintenance
Day porter maintenance goes beyond regular cleaning, it's about ensuring that your property remains functional and presentable throughout the day. Our dedicated porters handle everything from restocking restroom supplies, removing trash, cleaning common areas, and attending to spills or other immediate needs. With a day porter on-site, you ensure ongoing cleanliness and reduce the risk of any disruptions due to untidy or unsafe conditions.
Cleaning Services For A Variety Of Business And Building Types
Without proper janitorial oversight, properties can quickly accumulate dirt, grime, and waste. This not only detracts from a building's appearance but also can affect its structural integrity and the health of its occupants.
Each janitorial cleaning task, from the basic to the intricate, is handled with meticulous attention, ensuring your property remains in its prime. By integrating our services into your routine, you guarantee a pristine environment, enhancing user experience and increasing property value.
Medical Facilities
Janitorial cleaning for medical facilities requires an extra level of care and precision. With the potential risk of cross-contamination, our team is trained to adhere to strict guidelines, ensuring patient safety and regulatory compliance.
Schools & Churches
Educational and religious institutions serve as community hubs which is why it's essential for them to stay clean for the attendees' safety. Our services ensure these spaces remain welcoming and hygienic, creating a conducive environment for learning and worship.
Resorts & Hotels
Guest satisfaction is paramount which is why you need to make sure your janitorial cleaning services are of good quality. We ensure each room and communal area meets the highest standards of cleanliness, enhancing the guest experience and fostering positive reviews.
Car Dealerships
A sparkling showroom can make all the difference in sealing a deal. Our team ensures that every vehicle, floor space, and office shines to perfection.
Warehouses
Efficiency is key in warehouse operations. It's also vitally importance in terms of safety and health. Our janitorial cleaning ensures clear pathways, reduced dust, and a safer work environment.
Gyms & More!
Fitness centers require regular deep cleaning due to sweat, high traffic, and shared equipment. We target germs, ensuring a clean and safe workout environment.
Book A Service
You'll receive a free estimate for whichever service you need, whether it be pressure washing, cleaning contractor, or property preservation. Your satisfaction is our priority, and we're here to make it as easy as possible.
Frequently Asked Janitorial Cleaning Questions
We've compiled a list of the most commonly asked questions about our janitorial cleaning. Whether you're curious about specifics, processes, or general inquiries, our janitorial cleaning FAQ section aims to provide clarity.
Professional janitorial services bring expertise, equipment, and a dedicated team. This ensures consistent, high-quality cleaning that might not be achievable with in-house staff. We understand businesses have varying operational hours, so our team can schedule cleaning during off-hours to minimize disruption.
Our janitorial cleaning services generally include deep cleaning, trash removal, restroom maintenance, floor cleaning, and property preservation. With a focus on excellence, our janitorial cleaning services in Chandler ensure your property reflects the professionalism you aim to project. Let us handle the cleanliness while you focus on what you do best.
If Your Looking for Cleaning Services
Contact Our Cleaning Company in Chandler!