Junk Removal to Clear Away Oversized Trash, Furniture, Appliances, And More From Your Chandler Home Or Business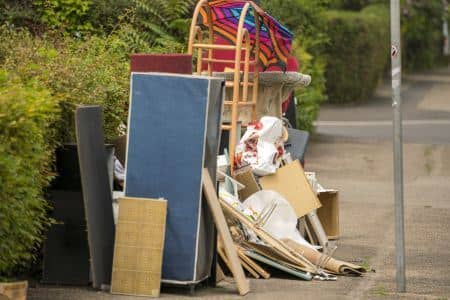 Effective junk removal is an essential service that helps to declutter spaces, giving Chandler inhabitants a fresh start. The need for reliable and efficient cleaning services for Chandler is a need we take care of thoroughly.
Getting Our Professional Services
Whether it's the accumulation of years of household goods or the remnants of a business relocation, clutter can be more than an eyesore, it can be a hindrance to productivity and peace of mind. For those in the Chandler area, understanding the value of such services can significantly impact how they manage their spaces. Our cleaning services for Chandler include junk removal, ensuring that beyond just cleanliness, spaces are free from unnecessary waste.
Junk Haulaway Experts
When it comes to removing large items or a considerable amount of waste, expertise matters. Our junk haulaway experts come equipped with the necessary tools and vehicles to handle items of all sizes.
We adhere to all environmental and waste disposal regulations, ensuring that recyclables and hazardous materials are treated appropriately. The process is straightforward: upon request, our team arrives for an inspection, provides an estimate, and once agreed upon, the junk haulaway process begins.
Benefits of Professional Junk Removal
Choosing a professional service for your junk removal needs offers a myriad of benefits. Beyond just the physical removal of items, there's the peace of mind in knowing that items are disposed of responsibly.
Additionally, our team can save you the heavy lifting, potential injuries, and the hassle of waste separation. Especially when dealing with electronics or appliances, understanding disposal regulations is crucial.
Book A Service
You'll receive a free estimate for whichever service you need, whether it be pressure washing, cleaning contractor, or move-in/move-out cleaning. Your satisfaction is our priority, and we're here to make it as easy as possible.
Frequently Asked Junk Removal Questions
We've compiled a list of the most commonly asked questions about our junk removal. Whether you're curious about specifics, processes, or general inquiries, our junk removal FAQ section aims to provide clarity. If there's something we haven't addressed, please don't hesitate to reach out.
While DIY junk removal might seem cost-effective, it often becomes time-consuming and physically taxing. Our team manages the heavy lifting, sorting, and disposal, saving you both time and potential injuries.
Pricing is based on the volume of junk and the nature of items to be removed. After an on-site inspection, we provide a transparent estimate without hidden charges.
Our team is efficient and responsive in getting the junk removed from your property. Typically in most cases, junk can be removed within one or two days.
We offer comprehensive services, allowing you to book junk removal in tandem with cleaning services for a seamless transition. Clearing out space can be liberating, and our junk removal services in Chandler aim to make that process as straightforward as possible.
Latest Junk Removal Articles
The Dangers of Leaving Junk on Your Property

Don't ignore the dangers of leaving junk lying around on your property. In our modern world, where everything seems disposable, it's easy to find ourselves buried under a mountain of junk, but neglecting to clear it can have severe consequences. Whether it's for the safety of […]
If Your Looking for Cleaning Services
Contact Our Cleaning Company in Chandler!