Tile and Grout Cleaning to Deep Clean Your Chandler Tile Surfaces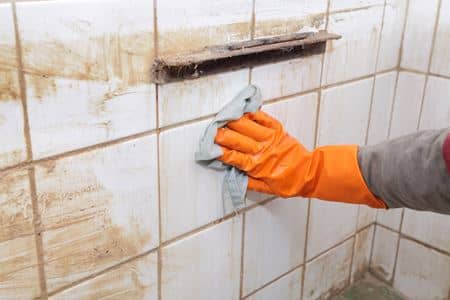 In Chandler's households and commercial spaces, the need for tile and grout cleaning is essential. For the most effective cleaning service for Chandler, trust our expertise.
Skilled Grout & Tile Cleaners
Over time, tiles can lose their shine and grout can become discolored. Both homeowners and business owners know the significant difference a professional tile cleaning can make, restoring the original sparkle and ensuring longevity. Understanding the nuances of different tile and grout cleaning materials, from ceramic to porcelain and everything in between, our professionals apply tailored techniques for optimum results.
The Importance of Regular Tile Maintenance
Maintaining the luster of your tile surfaces goes beyond aesthetics. Regular tile and grout cleaning ensures a healthier environment by eliminating mold, bacteria, and allergens that can take refuge in the grout lines. Routine maintenance can extend the life of your tiles, preventing early wear and tear, and saving costs in the long run.
Book A Service
Taking the first step towards a cleaner space has never been easier when you choose to book a service with us. You're not just getting a cleaning crew, you're securing peace of mind, expertise, and dedication.
Browse through our comprehensive list of services and select the one that best fits your needs. You'll receive a free estimate for whichever service you need, whether it be pressure washing, cleaning contractor, or carpet cleaning. Your satisfaction is our priority, and we're here to make it as easy as possible.
Frequently Asked Tile & Grout Cleaning Questions
We've compiled a list of the most commonly asked questions about our tile and grout cleaning. Whether you're curious about specifics, processes, or general inquiries, our tile and grout cleaning FAQ section aims to provide clarity.
For most Chandler households and businesses, we recommend a professional tile and grout cleaning on a yearly basis at least. However, high-traffic areas or spaces with regular spills might require more frequent attention.
Our team is trained in cleaning a variety of tile materials, from ceramic, porcelain, to natural stone. We customize our cleaning solutions based on the tile type to ensure effective and safe cleaning.
Sealing grout after a thorough cleaning can prolong its cleanliness and protect it from future stains. We highly recommend it for best results and longevity.
Our tile and grout cleaning methods effectively remove mold, mildew, and bacteria, making your spaces healthier and cleaner. When you seek excellence in tile and grout cleaning, look no further than Chandler's leading service provider.
If Your Looking for Cleaning Services
Contact Our Cleaning Company in Chandler!